Summary:

Would you risk your life for love?
My life had always been blissfully, wonderfully normal. But it only took one moment to change everything.
Suddenly, my sister, Georgia, and I were orphans. We put our lives into storage and moved to Paris to live with my grandparents. And I knew my shattered heart, my shattered life, would never feel normal again. Then I met Vincent.
Mysterious, sexy, and unnervingly charming, Vincent Delacroix appeared out of nowhere and swept me off my feet. Just like that, I was in danger of losing my heart all over again. But I was ready to let it happen.
Of course, nothing is ever that easy. Because Vincent is no normal human. He has a terrifying destiny, one that puts his life at risk every day. He also has enemies . . . immortal, murderous enemies who are determined to destroy him and all of his kind.
While I'm fighting to piece together the remnants of my life, can I risk putting my heart—as well as my life and my family's—in jeopardy for a chance at love?

Review:
This book is love at first sight!
Kate who has just lost her parents gas moved to Pars to her grandparents with her sister, Georgia. There she meets Vincent, with his good looks and charming manner (what do you expect? It's France.) He seems to look like a normal guy, but he isn't. Vincent is a Revenant a fancy word for saying the undead-zombies, ghost whatever, but not vampires. But been undead has a payment to give. Vincent and his friends have to save people when they are in danger of ending their lives. And with every good guys you get the bad guys as well. The bad guys: Numa. They are just like Revenants but they are made out of cold murder and many bad things. Without knowing what is still out there Kate turns a blind eye to the negative points and still carries on walking towards danger.
As i said before : "This book is love at first sight!" So this is why everyone is making a fuss out of this series and i have to i agree with them.
Die For Me
just sucks you in with it's crazy world and characters.
Kate's character is shy but brave, that is why i love her. She loves books and art. Kate's character was very realistic. I could imagine her in Paris reading or looking through the museum.
Quote: "When his table stood up a half hour later, it caught my attention. You could feel concentrated feminine tension in the air as the three guys walked past the terrice. As if a team of Armani underwear models had walked straight up to the cafe and, in unusion, stripped off all their clothes.
The elderly women next to me leaned in to her coffee companion and said, 'it's suddenly feeling unreasonably HOT, don't you agree?' "

(I had to share this. It made me laugh so much. :) )


Ooooh! Someones got a crush.
What is that feeling when you can't stop blushing at a guy, can't stop looking at him and when you can't stop thinking about him? Ah, yes. Love. I swear i think that everybody that has read this has fallen in love with Vincent. And i'm one of those people. God! I mean who wouldn't fall in love with a guy that stays you even when he is old!
Another character i loved was Jules. He is cute and funny! Whenever he steps in he lightens the mood. I would love to see more of him in
Until I Die
.
Paris!
The Paris in Die For Me made me fall in love with Paris all over again and speaking French. God! Is speaking French is so difficult! Everything has a gender and the grammar is so hard!
The first actions in these books were so killing me with curiosity. Sword fighting in Paris? There's only one thing to say: "en garde!"
Amy Plum is such a gifted author. I'm her fan just after the first chapter.
I would recommend this book to everyone! Die For Me is a unique and entrancing read.
My rating:
supercalifragilisticexpialidocious
About the author: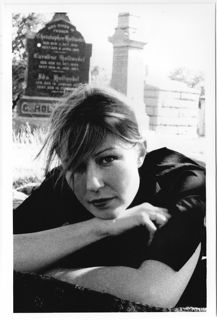 Amy Plum is the author of the International Bestseller DIE FOR ME, which is an Indie Next List pick, Romance Times top pick, and recipient of a starred review from School Library Journal. DIE FOR ME is the first novel in a YA trilogy set in Paris. Book 2 in the series, UNTIL I DIE, releases in May 2012.

Amy grew up in Birmingham, Alabama before venturing further afield to Chicago, Paris, London and New York. An art historian by training, she can be found on most days either daydreaming or writing (or both) in a Parisian café.

* From Amy's website.
Learn more about Amy Plum at: