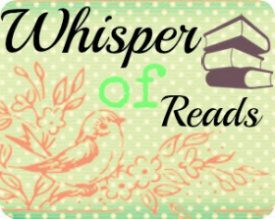 As you can already guess i have a new blog name, design and address!
You might be wondering why i changed it. And i've got the answer right here:
This book blog has never settled with a blog name. It actually had another name before
Wishing On a Shooting Star Reviews
. It used to be called
Entwined Tales
. Originally i wanted the blog to be named
Tales Entwined,
but it seems it was already taken. I never liked it. Then i changed it to
Wishing On a Shooting Star Reviews
. I actually liked it like that... for awhile. Then, for some reason i became really picky again. At the same time, i was making an Twitter account for the blog. I then made my Twitter account which is... dun dun duuun... whisper of reads. (See where i'm going?) Then it came to me! (Eureka!) I got the idea to change my blog name! It was perfect! And i loved it!
So, now we are here in the present. I would love to hear what you think of it! Do you love it? Is there something wrong with it? Is it not loading properly? If you have anythings to say then spill it away in the comments below!
Update:
I really forgot to do this yesterday. I got sidetracked by the time. All of these pictures are not made by me. I got them from other websites. And they are:
The button and header is by people from
Free Pretty Things
and
Shabby Blogs
. The purple stack of books picture is from
wikipedia
(the picture is public domain.) Lastly, I edited the button and added text on
PicMonkey
.